Temple-tired and so over Khao San Road? Get to know another side of The Big Mango with these 10 tried-and-tested recommendations from our team at HotelQuickly's Bangkok office. From bizarre museums to the best tom yam goong, there's something for everybody.
Cocktails in Chinatown
Whenever I can get to Chinatown, I end up at TEP or Teens of Thailand. TEP has live Thai music (surprisingly good) on most nights and does very cool cocktails using traditional Thai ingredients (with a base of homemade Thai moonshine, Yadong.) Teens of Thailand does the best G&T in town and is a very cool place, just across the street from TEP. – Chris Schalkx., Head of Social Media
Teens of Thailand (pic via @
chrsschlkx
)
Boating and Beer on the River
When friends come to Bangkok I usually take them for a sunset river cruise. There's a boat that leaves from Asiatique at 6:30 pm and cruises up to the Grand Palace and back. It's a full hour of lovely breezes, free beer and snacks, and of course seeing all the temples, hotels and restaurants lighting up the "River of Kings." Tickets are only 300 baht. Look for the YodSiamBKK boat stall at the waterfront. No one's ever disembarked disappointed!
Marvelous Thai Massage
I was introduced to a small Thai massage place by a friend who taught Thai massage here for 10 years. It's called Harry Massage and is on Suanplu Soi 8. Their traditional Thai massage costs only 200 baht (!) and includes many of the moves that other spas seem to have forgotten. I often head there if I have an hour to spare, just because it's so good and so cheap. – Esther, Copywriter
Board Games and Burgers
I love Game Over Lounge in Thonglor, a very upscale internet cafe with craft beers and Daniel Thaiger burgers. When I go it usually involves beers and shooting pool. I don't like to mix drinking and board games, but for others there are board games and video games and they have a 4-foot tall Jenga game setup. – Travis, Head of Talent
Game Over Lounge Bangkok (pic via @
locolifestyle
)
Spectacular Soup in Silom
This street food stall serves hands-down the best Tom Yum Goong I've ever tasted. They are open only on Friday and Saturday night I think. Tip: It's not the place right next to Silom road, but the one right next to it. That one opens only sometimes and their Tom Yum is a real gem – Peter, Head of BI
Chilled Out Pizza Party
If you're looking for a good Mediterranean-Italian restaurant that is super affordable, you should really try Mama Dolores. This semi-outdoor homey restaurant is located in the big front yard of a house at 20 Yen Akat Road, Tungmahamek, Sathorn area. A bit hidden, and you definitely need to take taxi or motorbike taxi to get there, but it's totally worth a try. They offer a friendly and casual dining experience with personalized-pizza package, open kitchen area, and even interaction with the restaurant owner's tiny cute dog! – Misha, Happy Customer Team
Japanese With a Twist
Bangkok is full of Japanese restaurants. There are so many that they all start to look (and taste) the same. It's a different story, though, for Koken Sushi & Dining Bar. This restaurant is owned by a Thai guy who used to live in the U.S and work for Japanese restaurants there. He invented new ways of cooking Japanese dishes, with a Thai touch to them (try the Salmon Seikyo.) If you're into fusion Japanese cuisine, visit Koken at 96 Soi Naradhiwat 15 Yaek 4. – Casper, BI Analyst
Biking in the Botanical Gardens
If you feel like you wanna see a completely different Bangkok and truly "getaway" you can go to Sri Nakhon Khuean Khan Park And Botanical Garden, rent a bike and cycle around the narrow paths winding through the greenery around there. You can visit a very local floating market (you're likely to be the only "farang" there), shop for organic cosmetics and toiletries, or relax with a refreshing drink at The Bangkok Tree House.
Tips: Set off early (bring sunscreen and a picnic), cross the river on a longtail boat from here (20THB) then rent a bike (100 THB) and off you go! –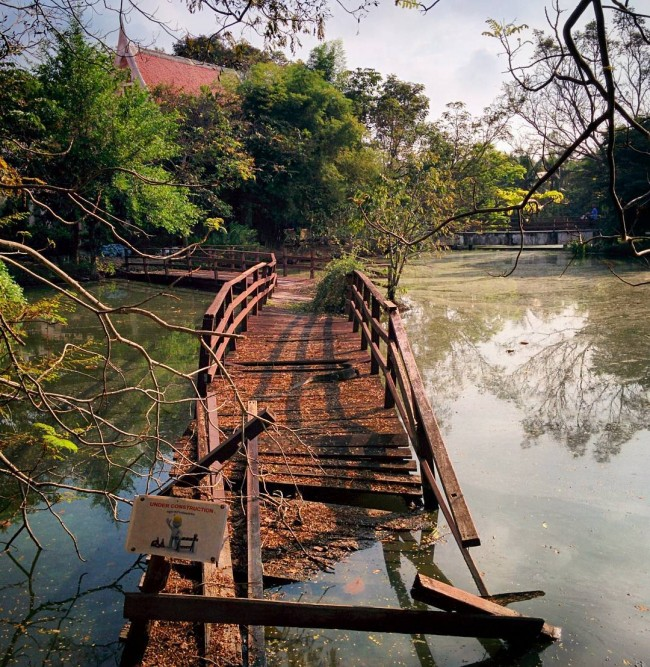 Biking Bangkok's green lung (pic by @
tl4b
)
Fabulous Foot Massage
You wouldn't expect to find a really good foot massage on Sukhumvit Soi 11, but it's really there! Check out, Baan Phuan Massage. Upstairs, in huge, super-comfy leather chairs, with nice chill music and a ceiling that looks like night sky full of stars. The perfect instant getaway from the Soi 11 craziness!
Macabre Museums
This is not a very mainstream place, but if you're into creepy stuff then the Forensic Museum might appeal to you. Forensic Museum is one of five museums you can visit in Siriraj Medical Museum, in the Siriraj Hospital area (2 Prannok Road, Bangkok Noi.) What you can see here includes the mummified body of the first known serial killer in modern Thai history, preserved organs, skeletons, parasites, etc. It's very interesting, but only if you have "medical" interests!