Phan-Nga is a quiet town in the south west of Thailand, even though it neighbours natural parklands with caves, desolate islands, thriving coral reefs and archaeological sites. The striking national parks have unique outstanding rock formations, limestone cliffs and unoccupied islands. The feel is natural, fresh, tranquil and relaxing, unlikely to be experienced elsewhere.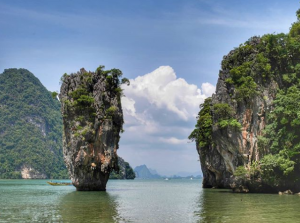 Ko Tapu, the iconic rock formation familiar as the infamous "James Bond Island" from the 1974 film, The Man with the Golden Gun, is located in Ao Phang-Nga National Park. Nearby, you will find many cliffs and rocks with attractive coves and verdant mangrove forests. The wildlife here in Phang-Nga is its number one asset, treasured and well taken care of. The waters are home to several species of sea snake, giant two-banded monitors (some measuring over two meters) and other aquatic creatures. The mangroves host a variety of reptiles and birds, together with gibbons, macaques and langurs.
Phang-Nga wildlife has also been the inspiration for a wealth of prehistoric rock art that is evident especially at Khao Khian, Than Nak and Koh Panyi. The last of these locations hosts a 200-year-old Moslem fishing community whose cliff-bottom houses are all on stilts. Most of these spots are best visited at around mid afternoon when most of the tourist boats have already left.
More limestone cliffs, caverns and tunnels can be found in Suan Somdet Phra Srinakarin Park, with walkways through which you can view the pools below. There is also a fifteen meter reclining Buddha in a beautiful, well decorated cavern called Wat Tham Suwankhukha, together with a neighboring cave that contains an assortment of effigies.
Some of the best tourist destinations in the world are defined by the quality of their beaches. In Phang-Nga province, the beaches on the west coast are impeccable. Alternatively, you can check out Muu Koh Similan found in the Similan Islands, another national park located about sixty kilometers from Hat Khao Lak and Thap Lamu in the Andaman Sea. The beaches are perfect for snorkeling, diving and swimming with superb visibility in the water. Koh Similan island is also rich in wildlife and sea creatures like turtles, dolphins, pythons, porcupines, lemurs and over thirty bird species.
Thai Muang Beach
Thai Muang beach is a thirteen kilometer long stretch of beautiful sandy beach, a large percentage of which is part of the Thai Muang National Park, which also includes Khao Lampi further inland and occupies an area of about 72 sq km. This magnificent park is the 52nd national park of Thailand, and was established in 1986.
The area around Thai Muang town holds significant historical worth in that it was used by Chinese tin miners and local traders who came here to work and sell their wares. The glorious beach also acts as a perfect spot for breeding of the extinction-threatened marine turtles and leatherback, and green turtles come here yearly to lay their eggs. It is for this reason that it stands out as among the few spots in Thailand where you can spot female turtles. A turtle release festival is held on the beach around the dates of Songkran Water Festival and Thai New Year in mid-April.
These festivals are held almost at the same time because they coincide with the natural born turtles, and it is the time when Thai Buddhists find it opportune to make merit and release life into the world on the first day of their new year. The best months to see the turtles are between November and April. The National Park Headquarters assigns local wardens to guide tourists who want to discover turtle nests.
Located barely a kilometer away from national park headquarters is the Phang Nga Coastal Fisheries Research and Development Center. At this center, you can see freshly hatched baby turtles as well as breeding age adults plus injured and rehabilitated turtles.
Other than the turtles, Thai Muang beach is also superb for camping, especially in the national park. You can also plunge into the deep sea waters for a swim, a dive or a snorkeling expedition, while trips to the neighboring islands are organized daily. A variety of accommodation facilities are available, including hotels, bungalows, resorts and villas.
Surin Island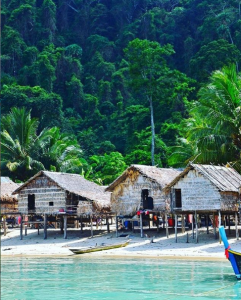 Surin National Marine Park rates as one of Thailand's prime island locations. The two main islands Koh Surin Nua (North Surin Island) and Koh Surin Tai (South Surin Island) form the bulk of the land mass. The other three satellite islands enhance the over ground vistas and provide supplementary fringing reef.
One of the outstanding features of the island is the naturally beautiful Surin Marine Park. Here you are assured of seeing an exceptional array of fauna and flora, both in the sea and on land. The inspiring bio-diversity will surely impress nature lovers. The ancient rainforests that layer the island are home to different species of animals like monitor lizards, reticulated pythons, flying foxes and pig-tailed macaques, to name but a few. Furthermore, nearly a hundred species of bird have been spotted and reported in the islands.
The water surrounding the Surin Island is clean and impressive. The coastline provides space for a long fringing coral reef to thrive around the islands. Located on the east side are several bays usually sheltered from the open sea where you can find the most remarkable coral reefs—in fact, there are over 200 coral species present in this region. Any observing visitor is assured of the most impressively diverse view of corals in Thailand.
Surin National Marine Park neighbors Koh Phra and Koh Ra, a fact that makes accessibility to the island easy. This is because Blue Guru Diving on Koh Phra Thong run a day-trip service to Koh Surin and Richelieu Rock. The water around this island is perfect for snorkeling, due to the corals that house an array of marine life; diving, since the waters are clear; and also swimming for the waters are relatively warm. This is a destination that offers a combination of rejuvenation, fun and tranquility. Make that trip !
Similan Islands
The Similan islands consist of Ko Bangu, Ko Similan, Ko Payu, Ko Ha, Ko Hok, Ko Miang, Ko Payan, and Ko Huyong, Hin Huwagralok, Ko Payang. They are found about seventy kilometers west of Phang-Nga on Andaman Sea's coastline. In 1982 the islands were declared a national park—Mu Ko Similan National Park, which was later extended to cover Koh Tachai. The islands are characterized by dense green vegetations, granite formations and pearl white sandy beaches.
A prominent feature of the Similan islands is the wildlife. You can spot monkeys, langurs, bats, and birds as well as a wide variety of marine life lingering under the clear blue waters of the Andaman Sea. Because of the rich marine life, the Similan islands are rated among the most enchanting diving spots in the world.
The water around the Similan islands is usually clearest between the months of December and April, which is the best time to visit—not least because during the monsoon (May to November) the park is usually closed.
Similan island is the largest island and has some of the best diving spots. Some of the most common diving spots are Elephant Head south of island No. 8, Beacon Point off the southern tip of No. 8, Boulder City/Shark Fin Reef near No. 3, Christmas Point on the western side of No. 9, and Breakfast Bend off the eastern side of No. 9. On each of these spots, expect to see—among other things—nudibranchs, white tip sharks, turtles, ribbon eels, bumphead parrotfish, and leopard sharks.
You are unlikely to find accommodation a problem since the National Park Office has a camping site as well as basic bungalows for rent. If you don't want to use these facilities, there is an assortment of other accommodation options on the island that you can turn to. Sailing is a popular activity on the islands, and you can charter boats from Phuket and Phang-Nga. Similand Island and its numerous neighbors is a perfect and magnificent destination for a great vacation.
Instagram Tag for Similian Islands
Koh Yao Island
Koh Yao island is made up of two smaller islands called Koh Yao Noi and Koh Yao Yai plus a number of neighboring islets. There are various beaches on the island, with most of the Koh Yao Noi beaches found towards the west of the island.
Some of the adjacent spots include Haad Pa Sai where there is a busy 400-meter-long beach. It is from here that you can watch the panorama of Koh Pak Bia, Koh Hong and the magnificent sunset as the sun sinks peacefully into the horizon. If you move towards the north of Haad Pa Sai you end up in Haad Klong Chak and Haad Tha Khao. These two beaches are partially stony, but beyond them there is another magnificent beach known as Ao Kian, found towards the island's northern end. This is a small, curved beach that is around 50 meters long, with crystal clear blue water very ideal for swimming. While there you can visit two large Ficus Religiosa as well as the beach's two caves.
The only shortcoming of Ao Kian is accessibility, as it can only be reached by boat.
Most of the inhabitants of Koh Yao island are rice farmers and fishermen. The fishing boats mostly sail from the south, where some animal farming is also practiced. The western road is usually used in the evening by visitors out for a jog, or returning from a day at their various sports. The easiest way to access the neighboring islands is to connect from Koh Yao Noi. As a result, many tourists usually proceed to Koh Lao Bi Le or Koh Hong, where a ranger unit of Than Bokkoranee National Park is located.
Lovers of sandy beaches with amazing coral reefs will appreciate Koh Lao Hundu and Koh Pak Bia. Each beach has its own accommodation facilities, ranging from beach villas, bungalows, hotels and beach resorts.
Koh Kho Khao
Koh Kho Khao is found approximately twelve kilometers west of Takuapa on the Andaman Sea. It is about 20 minutes north of Khao Lak and boasts some of the most attractive beaches in the region. The island covers a sixty kilometer area with a range of vegetation including mangroves, grass fields and evergreen hills, while locals cultivate oil palms, rubber, and exotic fruits like pineapples.
The island has a rich historical significance, with traces of prehistoric civilization having been found in the east central region. In fact, archeologists believe that the island and its harbor was an important trade outpost, being part of a route that linked China, India, Malaysia and the Middle East. There is an archeological site, "Tung Tuk," bearing the evidence of the past history of Koh Kho Khao. Finds discovered on the island include a statue of Gnesh, Persian glass fragments, prehistoric beads, and pottery shards that are said to be the remains of artifacts made during China's Tang Dynasty.
The four main beaches of Koh Kho Khao are on the western coast, and are used by sea turtles that come ashore to lay eggs. Nok Nah beach covers about a fifth of the island's coastline. It is relatively quiet and stunningly rugged. The largest beach on this island is however the Bang Neang beach which is nearer half of the island's overall coastline found to the south of Nok Nah beach. Thung Tuk beach is the third one, found near the Can Kaow Canal. This is one of the fastest developing areas of the island, with many beachside residences being put up with long-term visitors in mind. Finally there is Pak Koh beach, the most active, which is home to most of the island's resorts, restaurants and massage parlors.
A trip to Koh Kho Khao guarantees access to some of the greatest diving and snorkeling destinations in the world. For long-term visitors, this is the perfect place to drop anchor and call your home. The beach life, the waters, nature and most importantly, the rich history, makes Koh Kho Khao a number one tourism destination.
Khao Lak Beach
Located on the elegant Andaman coastline of Phang Nga province, with Phuket Island lying to the south, is Khao Lak beach. It is one of the most serene beach resort destinations in Thailand, and travelers are never disappointed by the wealth of leisure-related activity on their doorstep when they make their visit. There are three national parks embraced by the magnificent surrounding hills, reaching down to the exquisite coastline.
The tropical forest inland creates a unique ambience and a rare relaxation haven coupled to the wide and long pristine white sandy beaches and the striking beachfront accommodation. Despite being struck by the 2004 Tsunami, Khao Lak beach has recovered remarkably and the beaches are more gorgeous than ever before. Newly refurbished hotels offer some of the best accommodation services in the region; the resorts have upgraded their facilities and been invigorated. They have created additional spaces and encompassed extra features like soothing lotus ponds, perpetuity pools and peaceful gardens.
The forested slopes inland from Khao Lak beach are ideal for nature tours like elephant trekking or hiking to temple caves, as well as rafting back down to the shore. There are gargantuan tropical trees as well as dazzling waterfalls, and you will find many unique and rare plant species as well as numerous animals and birds.
Nature lovers will love the beach as it is quiet, relaxing and homely. Despite the many activities that visitors can engage in, they can opt to keep themselves busy doing absolutely nothing, taking an afternoon nap or a stroll along the beach, gazing into the horizon, welcoming the exhilarating sunset as it casts its rays on the sparkling waters of the ocean. This is a beach like no other; not only a destination, Khao Lak beach is a stimulation. Come and connect with nature in a way like no other !
Sources: