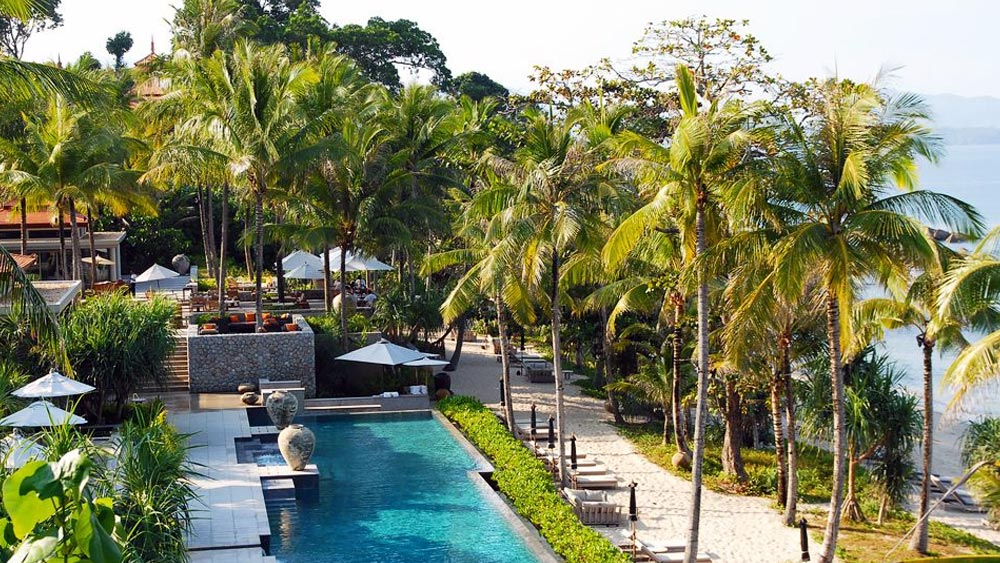 Gone are the days when eco-friendly meant bamboo huts and camping in tents. Today some of the most desirable hotels and resorts are going green, and we're huge fans of this trend. Why just travel, if you can travel and protect the environment? We handpicked these eight hotels from thousands in Thailand, for maximum points — both in sustainability and in style! Read on.
The Tongsai Bay, Koh Samui
For an all-natural beach escape, you can't do better than Tongsai Bay. This idyllic getaway lures us in with ocean views, outdoor bathtubs and a solid commitment to the environment. Apart from the gorgeous villas and private beach, we love how no trees were cut in the building of the resort. Also, the lush 25-acre gardens and grounds are cultivated without insecticides and chemical fertilizers, so you can stroll, roll and run in nature, completely worry-free!
137 Pillars House, Chiang Mai
Who says opulence can't be environmentally friendly? The highly photogenic 137 Pillars House is known for its iconic garden wall bordering its 25-meter lap pool. But what impresses us most about 137 Pillars House are their sustainability efforts. This boutique resort teams up with WarmHeart Environment to create charcoal from its organic waste and finds innovative, chemical-free ways to eliminate toxins from its rooms and gardens. Bravo!

Pimalai Resort & Spa, Koh Lanta
Derived from ancient Sanskrit, the name Pimalai translates into "a little patch of heaven", which could not be more fitting for this beautiful resort. Set atop a hill, Pimalai will thrill you with its luxurious spaces and panoramic views of Krabi's land- and seascapes. The entire resort is built with a respect for nature. Most of the resort's flora and fauna are indigenous to Thailand's southern rainforest and are carefully maintained by the hotel. Sign up to join their scheduled beach cleanings, or have a chat with the resort's boat attendants about best ecological and environmental practices.
Kuraburi Greenview Resort, Phang-Nga
Tucked away within the tropical rainforests of Phang-Nga, Kuraburi Greenview Resort is a comforting haven with plenty of rustic character. We adore the way nature can be felt throughout the resort, from the bungalows which feature decorative wood trimmings and furniture made from reclaimed lumber, to the cobblestone walls which provide insulation. Nature lovers will feel right at home here, surrounded by the soothing sounds of the rainforest.
"Gone are the days when eco-friendly meant bamboo huts and camping in tents."
Amari Watergate, Bangkok
In the heart of lively Pratunam in downtown Bangkok, Amari Watergate is an ideal pit stop for those in Bangkok who are after a luxurious yet ethical abode for a night or two. Look for an inviting pool and hip rooftop lounge, both with stellar views of the buzzing city center. This eco-friendly five-star hotel has constantly been developing its environmental policy to make better use (and re-use!) of its natural resources.

Indigo Pearl, Phuket
A feast for the eyes, this award-winning boutique resort successfully blends modern design with touches of Phuket's colourful past. It's a gorgeous getaway, yes, but Indigo Pearl also encourages eco-friendly practices to all of its guests. The resort organizes beach clean-ups and awareness workshops in the community, and even supports Sunshine Village, a foundation that sponsors orphans of the 2004 tsunami. Indigo Pearl is definitely on our bucketlist!
Trisara, Phuket
Trisara sits on a quiet bay of Phuket's sophisticated northwestern coastline. We adore how peaceful the resort is. Each private residence is designed with simple, rich interiors. Trisara is a member of the Keep Phuket Clean campaign. The resort catches rainwater for use in gardens and rooms, uses aircon energy to heat water in villas and avoids chemical treatments for its saltwater pools. So you can sit back and enjoy the picturesque views and superb privacy, completely stress-free!
Dusit Thani Laguna, Phuket
The Dusit Thani Laguna is one of our top picks when it comes to sustainable standouts. This enticing resort sits on acres of tropical garden on the dreamy shores of the Andaman Sea. Shaded by coconut palms and surrounded by unique neo-colonial architecture, this is one of the most eco-friendly hotels in Phuket, and a proud holder of EarthCheck certification. Sustainable travel never felt and looked so good.