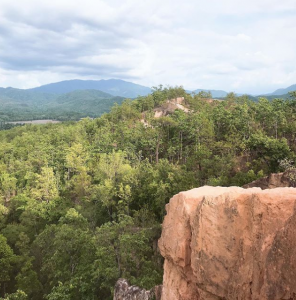 Pai is not a typical town. It's a special place built by travellers for travellers. And the locals wouldn't want it any other way.
The tiny town of Pai lies in the midst of stunning mountain scenery. It is a wide spot on the narrow winding road leading from Chiang Mai to Mae Hong Son. Pai was a small peaceful town, a brief rest stop for drivers on their six-hour journey, until tourists began stopping here and staying for a few days, or weeks, or for life.
The locals here had always been farmers. Pai was just big enough to be self-sufficient. It was quiet during the day and peaceful at night. People grew garlic, onions, and other mountain vegetables. Pai was the sound of chickens and birds, students going to school, and of locals doing woodwork.
Excitement in Pai was a pick-up truck swaying under a ponderous load of garlic and onions as it worked its way through the first of the 800 twists and turns on the road to the Chiang Mai market. Many years ago the first tourists came, and went away and told their stories. Then more came, and loved it, and told their stories too. Gradually the town began filling with tourists, charmed by the locals who lead a simple life. Locals who love their peace and quiet, and want to keep Pai the way it is-tourist town, yes, but never tourist city. Pai is not an all year town. It closes-up during low season, the locals leave town to visit their families. The peak is from October to February when the weather is cool and the Pai River has enough water for rafting. Some bike the mountain trails, but many find themselves lying lazily around town or walking in the nearby hills. Tourists flow in during this time like birds fleeing cold weather.
"Tourists bring business," one local told me. "But we still love the mountains, the birds singing, and the quiet nights." When night approaches, you wonder where all these tourists come from. They begin to fill the cafes and pubs; and they chat, drink, and talk. Yes they love to talk about their experiences. "What did you do today?", I heard someone ask. "Smell the serenity," was the answer. "Here is Mary," someone shouts. Mary made herself known last night by getting up and singing with the band.
Amm, the owner of All About Coffee, was working for an advertising agency in Bangkok, "I came here for the first time last year, and I knew I had to live here. " He ended up opening a coffee shop with his friend Wach.
"We just came back today to reopen the shop," Wach said. A cup of coffee in Pai is more than just coffee. Amm and Wach treat us like we have been friends forever.
Amm looked at me and said, "I remember seeing you here a few days ago. It's true, I had Binoffi pie, a pie of their own creation.
"The brownies are the best," Wach said proudly. "Stay one more night and come back for a brownie."
Pom came from Bangkok to open the Come Pai bookshop. "I was an interior designer, the economy was bad, but after I came here to visit, I thought, I could open up a business here." He also sells his own watercolours. "I have the time to do what I really enjoy here, Bangkok is too busy to do anything."
A former flight attendant opened up the Tea Room, selling teas from all over the world. "It's a small town, everybody knows everybody. I enjoy it here." As she drove off on her motorcycle, she said, "I will see you around, for sure."
Most people opening tourist businesses here are not locals. Some came from Chiang Mai, but many more came from Bangkok, and a few have travelled from Europe or North America to do business here. The town is changing, more shops, more pubs, more internet cafes, and more guesthouses. "When I first came about five years ago, Pai was still like this," one of my old friends who works and lives here told me. "It's changing but on a limited scale."
"I'm hoping Pai will stay the same," another business owner said. "I'm just so scared now to think of the rapid change of Pai."
There are pubs selling drinks but all of them are doing business in a peaceful way. There is only one pub with live music, B Bop, with my favourite blues guitarist in Thailand. The music goes until 10pm and then everything shuts down. Nothing after 10, the locals won't allow it. They want the money to come to the town, but they love their peace. "Last night, a married couple had an argument at the end of the road," said a friend, pointing her finger to the mountain, "and I heard every word they said".
People come here to discover themselves and others. Painters, musicians, writers, advertisers, architects come here to stop and grow and learn. "He came here a month ago to stay at my guest house. He came out for breakfast this morning, and went back in and then came out for lunch and went back in and now, he's playing guitar over by the river," says a guest house owner, pointing to a tourist playing guitar and singing songs. " Man! He's a good singer."
The local children sell food to the cafes or work in the shops. Ask them if they are happy to see Pai this way, they say yes. "Children here grow up speaking English or German or French. My son hears at least three languages everyday. He is going to be good at languages."
The Sip Song Panna Guesthouse owner's brother said: "I'm helping my sister here, I know more of the world. People from around the world come and some stay for months. See that man? He has been here a month already," he said, laughing and smiling. "You can't book during high season, you just have to come and try your luck. I can't book anything for you because I never know when they will check out. I'm never able to predict."
Another local told me with a worried face: "I'm afraid Pai will change, I'm afraid there will be karaoke and pubs that play music all night long."
I don't think so. Change is inevitable, but I think Pai will always be this peaceful and lovely place because both visitors and businessmen came here for the same reason. They come to talk, to taste, and to return.
Getting There:
Fly: Thai Airways and Bangkok Air fly from Bangkok to Chiang Mai. Thai Airways flies to Mae Hong Son from Bangkok and Chiang Mai.
Road: Non-aircon buses leave Chiang Mai's main bus terminal every 3 hours starting at 8.30. The trip to Pai takes 4 hours. The ticket is 48 baht.
Drive by taking route 1095 to Mae Hong Son.
Eating in Pai: Eating in Pai is also one of the best things to do. Name it. You will find a wide variety of things to eat here. And, because of the town or because of the food I don't know, all the foods are delicious. Whether you eat at the fancy restaurant with a reasonable price, 'Prik Waan' situated right at the biggest intersection in Pai, or you choose from any food stalls or a shop around the corner the street, you will find yourself left with empty plates before you. Don't miss Khao Soi, the traditional northern food here. Ask the locals where to eat this special dish.
Shopping: Most shops sell only-one-in-the-world paintings, cards, and other handmade gifts.
Resources