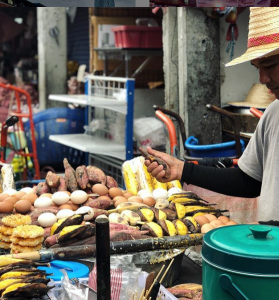 There's a big hotel in Pattaya that has built a restaurant called Naklua Market.
Its done out in teak and its squeaky clean and sanitary, nothing like the real Naklua market.
The idea is to keep customers in the hotel spending money rather than going to see the real market. That sort of customer wouldn't like life in the raw.
Real Thai markets have sights that are not for the squeamish. A visit to Klong Toey on market on Rama IV Road will show you this vividly.
"Go in a taxi – you see nothing; walk – you see everything," my wife had said. And she was right. You can't see much of Klong Toey market from Rama IV Road, just a few stalls, but it's huge.
Thais love eating; Thais love bargaining. That means there will be plenty of goods on display to tempt the customer, and lots of competition amongst sellers. It's a buyers market.

Klong Toey market is a fascinating place. But if you like to believe milk comes from bottles not cows and chicken legs come from supermarkets not birds, it's not the place for you.
Frog's leap vainly against the sides of the vats which form their last home; eels and catfish wriggle despairingly in large trays almost as if they know their fate; vendors loudly exhort passers by to view their wares. Butchers expertly and busily dissect whole pigs and you'll know only too well where your breakfast bacon, ham sandwich snacks and pork chop lunch come from.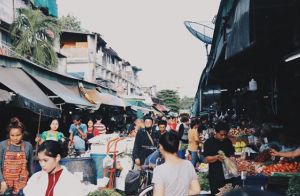 Klong Toey market is predominantly for food though you can buy clothes and other goods there too. Just wandering round is fun even if you don't want to buy.
And the prices! Many of Bangkok's Isaan workers come here and Isaan people know the value of money. There are bargains aplenty to be had here.
We wandered round the market captivated. It's not pretty but it's tremendous fun, with all kinds of vegetables and meat on display. We were after seafood, and the crabs and prawns we bought here were a fraction of what they would cost in a supermarket, and, I suspect, a good deal fresher.
It's a taste of real upcountry Thailand. If you like your food prettily wrapped in cold trays under neon lighting, then it's a supermarket for you. But if you'd like to prepare your own barbecued crabs, as we did, Klong Toey's the place to buy cheaply; you can take a bucketful of them home and slaughter them yourself. (They succumb to a bang with a stick – don't untie the claws before the creature's dead.)
We really enjoyed our visit and the subsequent crab and prawn barbecue, especially as it had been an expedition that didn't tax the wallet too heavily.
We'll be going back – it's addictive!