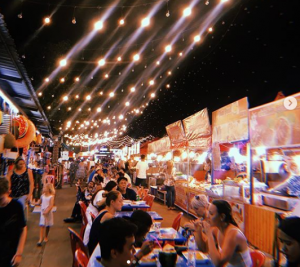 Visiting this market combines a pleasant river trip and a visit to an island outside Bangkok's overwhelming bustle. It's a Sunday affair. Although you could go on another day, you will see less.
First take a boat to Pak Kret in Nonthaburi in the morning and have lunch at the pier there. The fare is laughably cheap. The restaurants are good. Next decide if you want to take the tourist boat or hire one for yourselves.
We hired. It was a little expensive but we didn't want to be hurried.
The trip to Kret Island, or Koh Kret, in the middle of the Chao Phrya takes 20-30 minutes, Fresh air, a pleasant little journey and life on the riverbank to see.
The islanders sell mostly on Sundays, opening up their house fronts as shops. You can go on other days but fewer places are open.
What can you buy? Figurines in wood and stone and earthenware, beautifully finished, including the kneeling girl figures you see in Bangkok at such exorbitant prices. Kitchenware – mortars and pestles, chopsticks, ladles and plates and bowls, in wood and earthenware. Mobiles, to give you that tinkling outside the door when a breeze blows. Small ornamental tea-sets and figurines. A host of attractive or functional objects. And gardenware – flowerpots, large rain jars, all in earthenware, and well made.
The prices? Well, you'll be glad you bought there and not Bangkok!
We walked to the island temple. It's very beautiful. We kept to the roadways on the island because an old lady told us there were 'badlands' further on. We took her word for it.
Near the temple, on the river's edge, fish have been spoilt by the visitors, and so you can buy bread from an enterprising old lady who lives there and feed the fishes. Talk about feeding frenzy!
As you walk around the island, you can see something of the community life. It's quiet and we were envious of that. Bangkok is a city where there is always noise.
Some of the islanders live in stilt houses – the lapping of the water will lull them to sleep, we thought enviously. They sell their wares under the houses.
Once back in Nonthaburi you can go back to Bangkok on the boat. It's a matter of a few baht.
If you like quiet, if you'd like to buy some ornaments or pots for your garden or house, if you'd like to explore a little island not far away and escape the metropolis then, Koh Kret is the answer.
The problem? Carrying back all the things you will want to buy! That's why hiring your own boatman might be better; you won't be able to get all your purchases onto the tourist boat, cheaper though it is. Once you're back in Nonthaburi, getting back to Bangkok with a lot of purchases may be tricky.
But this is Thailand. Take a taxi and bargain! There were three of us, so we managed one way or another. Here's where ingenuity comes in. It's a lovely day out, relaxing, different, and an escape from that Bangkok pollution.
And sitting on my table now is a beautiful figure in polished wood of a dolphin to remind me of that day
 

View this post on Instagram