What is it about Chiang Mai that attracts us? Is it the soothing views of foggy, forested hills? Is it the meandering Ping River and the atmosphere in the old city? Or is the artsy vibe of the young university crowd? All we know is that we're always up to go back to Chiang Mai for a 'slowlife' weekend or two.
The SLOW movement has taken root in Chiang Mai, especially in the leafy neighborhoods outside the city center.
If you've already seen the major tourist sights, try doing Chiang Mai the way the locals do. The SLOW movement (SLOW, if you didn't know, stands for sustainable, local, organic, wellness) has taken root in Chiang Mai, especially in the leafy neighborhoods outside the city center. Here's how to slow down and see more on a weekend in Chiang Mai.
Check out the artist's village Ban Kang Wat
Only about 20 minutes from the old town on Soi Wat Umong, you'll find a photogenic little community of artists, painters, potters, retailers and cooks. The Baan Kang Wat craft village is made up of 11 Thai-style homes sharing a garden space. There are cafes stocked with books and tempting cakes, places to try your hand at ceramics or pick up a pair of silver earrings, and even a monthly market for organic produce.
Baan Kang Wat (pic by @
shbg1004
)
Wander the Queen Sirikit Botanic Garden
The highlight of these sprawling gardens in Mae Rim is a 369-meter canopy walkway. Built 20 meters up from the ground, you'll feel like you're walking among the mountains, the jungle and the clouds all at once. The botanic gardens are also home to countless subtropical plants and orchids cultivated in glasshouses. Snap a few pictures with your favorite specimens (don't miss the rainforest glasshouse with it's own waterfall!) then recharge with a snack in the on-site café.
Queen Sirikit Botanical Gardens (pic by @
chrsschlkx
)
Chill out in Chiang Mai's best cafes
Speaking of cafes, Chiang Mai knows how to brew a coffee with the best of them. Clear out your schedule and head to one of the relaxing cafes in the city's outskirts. Sala Café and BAA BAA Black Café are a few options to start. You can easily spend a whole afternoon enjoying the rural atmosphere, fresh air and tasty food in these cafes. Closer to town, check out Tita's Gallery for local art, indigenous coffee and delicious pastries.
Shop eco-threads at Studio Naenna
There are two outlets for Studio Naenna, but we recommend visiting their weaving studio on Huay Keow Rd. Here you can immerse yourself in the complex weaving patterns and traditions of Lao-Tai textiles, learn about plant dyes, and pick up a few compelling accessories for your home. Look around to find fabulous throw pillow covers, art pieces, wall murals, scarves and clothing.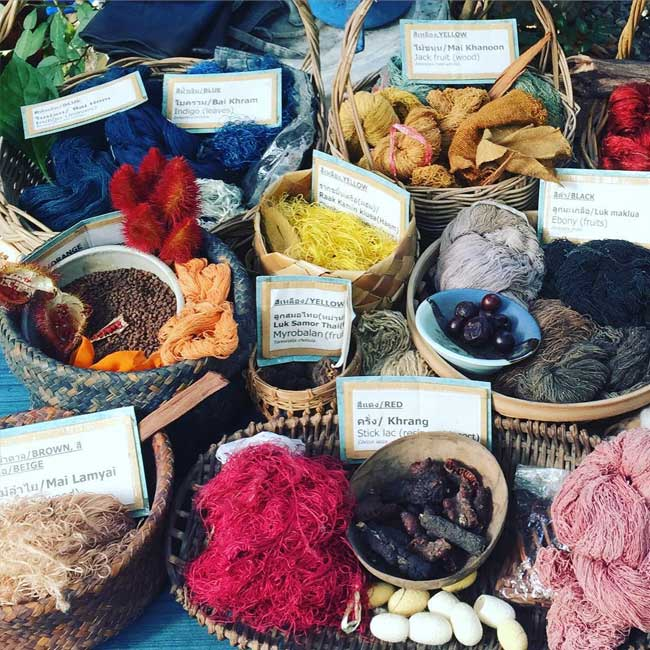 Shop eco-threads at Studio Naenna (pic by @
weeatdrinkdesign
)
Book a hotel that let's you stay in nature
You didn't come all the way to Chiang Mai to sleep in a concrete block. Enjoy the greenery all around Chiang Mai by booking a hotel on the river or in one of the amazing resorts near the town. There are countless health resorts just outside Chiang Mai, where you can try organic gardening, do yoga or take healthy cooking classes as a complement to your slow weekend. Need to be more connected? Stay in town along the Ping River and wake up to refreshing views of the water and trees each morning.