Rayong is located about 175 kilometers south east of Bangkok, between Chonburi and Chantaburi Provinces. It is only 40 kilometers away from Pattaya and is one of the four provinces found on Thailand's eastern coastline region, with an abundance of beautiful beaches that attract thousands of happy tourists to the region every year. Other than its 120 kilometer stretches of magnificent beaches that are spacious enough that they are rarely overcrowded by tourists, Rayong is also considered as Thailand's fruit garden, and also the largest fishing port in the whole country.
Generally, Rayong is a modern region with numerous state of the art factories and facilities, owing to its proximity to Bangkok. It is however a relatively peaceful, safe and relaxing heaven that has retained most of the ancient Thai traditions that still survive. It is also much cheaper than other Thai tourist spots, attracting mostly European tourists.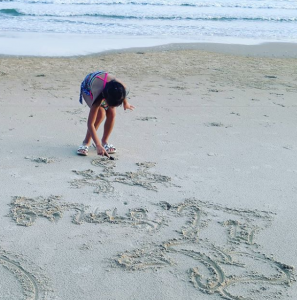 One of the most popular destinations in Rayong is Koh Samet, which is a national park with crystal clear waters and spectacular scenery. Some of the beaches here are rather crowded, such as Had Sai Kaow, due to their beautiful and white sands and sparkling clear waters; others are rather deserted. The choice is broad, and tourists can find beaches where they can enjoy jet skiing, windsurfing and riding on a banana boat before heading out and getting lost in the vibrant nightlife of Koh Samet, or they can find a place to just relax and watch time fly by in utmost tranquility.
Some of the most common and interesting places to visit in Rayong include the shrine of King Taksin the Great , Phra Chedi Klang Nam, Si Mueang park, Hat Laen Charoen, Hat Saeng Chan, to name a few. There is a lot to do as well as plenty of accommodation at every single beach. It is close to impossible to visit Rayong once and never come back; it is one of the ultimate holiday destinations in Thailand !
Phala Beach
Phala beach is a 5 kilometer stretch of white sand connected with Phayun beach, and is located in Ban Chang District, approximately 36 kilometers from Rayong town, and only 45 kilometers from Pattaya. The beach was mainly a fishing village before the age of tourism, but is now well developed. One side of the beach is still occupied by the fishermen while the other side is entirely given over to recreational purposes.
Phala beach is a nice place to unwind, walk along the sandy beach, taking a dive into the clean warm water of the ocean, or even take off in one of the fishing boats. You can also explore the neighboring beaches on a boat trip. The fishing village supplies the beach restaurants with fresh Thai seafood.
Accommodation in Phala beach is plentiful and varies from basic hotels to high end beach resorts and bungalows. The beach is lined with pine trees that offer relaxing shade from the scotching direct sunlight. It offers utmost tranquility and relaxation to the visitors.
Mae Ramphueng Beach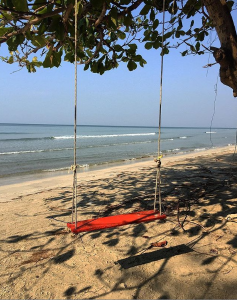 Covering a mighty 12 kilometer long stretch of beautiful sand, Mae Ramphueng beach stands out as the longest sandy beach in Rayong province. The beach is situated within Khao Laem Ya-Koh Samet National Park, which is the number one attraction that visitors want to check out. However, there is far more one can do and see on this long beach.
The sand here is pristine white, precisely what sunbathers will desire and love. Watching sunset late in the evening can be breathtaking, as it sinks in the horizon casting its piercing rays on the ocean that lies ahead. The location is only a few kilometers from the city of Rayong and attracts both locals and foreign tourists. It is indeed a perfect destination. There is a ten kilometer stretch of seaside road that gives ready access to the full length of the beach, another feature that holiday makers will appreciate.
There is a tiny fishing village at one end of the beach called Ban Kon Ao; this is where restaurants and local inhabitants replenish their supplies of seafoods. The water in Mae Ramphueng beach is perfect for swimming as well as an array of water sporting activities like snorkeling and diving. Hikers will love the trails, even though the highest point of the headland is reserved for the military.
The level of hygiene has been maintained at a high standard despite the number of visitors the area receives. Mae Ramphueng beach still manages to remain clean and attractive, especially towards the western end where it is less crowded. There is a variety of accommodation here, catering for a wide range of high, middle and low budget travelers. Restaurants are plentiful too, as well as seaside eateries where you can find some of the most delicious Thai seafood delicacies as you enjoy the relaxing sea breeze.
Laem Mae Pim Beach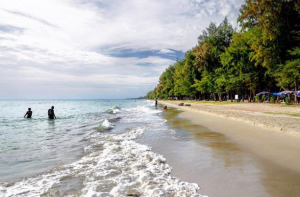 Laem Mae Pim beach is a four kilometer stretch of white sands found twenty kilometers east of Rayong. It is a superb location with many restaurants overlooking the sands as well as a number of modern, low end resorts and bungalows that fit a range of tourist budgets.
Visitors love it because of the clean warm water, which is ideal for swimming and an array of water sports. If you like to spend your day in the sea, there are various canoes and banana boats in Laem Mae Pim beach as well as jet skis available for rent. For the adventurous, you can set out by canoe to explore nearby islands like Koh Mun Nai, Koh Mun Klang or Koh Mun Nok. These islands are only 5km from the beach and their white sandy beaches are just amazing.
Visitors can have a feel of paradise in Laem Mae Pim beach by simply relaxing on one of the shaded deck chairs and ordering the delicious Thai seafood, which is delivered to whatever place you happen to have staked your claim to, whether to read your favorite books, or just to gaze at nothing in particular. Alternatively, the many restaurants and bars that line the east of the beach serve plenty of varieties of food, and drinks to any liking. The west end of the beach, on the other hand, is relatively secluded and peaceful.
Laem Mae Pim beach is busiest during weekends, with many visitors either basking in the sun, taking off for a boat trip, swimming, snorkeling, diving or doing nothing at all! Visitors might stay for as little as a couple of days, or take up residence for as long as an entire year or more. For those with the desire to own a beach home, there are plenty of plots of land on sale just ten minutes drive from the beach.
Read more in Tourism Thailand
Ban Phe
Ban Phe is a tiny coastal town that sees many visitors pass through while using it as a connection point to the popular island destination of nearby Koh Samet. Most travelers only stay for a few hours while they wait for their next ferry or bus. It is however a cool spot, with an equally cool sea breeze whose smell somehow resembles that of sun-dried fish.
Just because Ban Phe is a launchpad doesn't mean that there is nothing that happens here. Travelers have the freedom to find refreshments or a place to spend the night, and to enjoy a few of the facilities that the town has to offer. Most of the businesses can be found in the sois beyond the pier, which is the busiest part of the town. There are several restaurants and bars nearby where travelers can enjoy food and drink, passing the time and enjoying their short stay.
Ban Phe exhibits some typical features of Thai port towns, especially if you opt to explore away from the bus station toward the seashell stands and beyond. The outskirts of the town reveals an interesting local setting with stretches of fine sand lined with flourishing trees. The town has many boats that carry travelers to the nearby beaches and islands, but others are traditional fishing boats and usually there are some moored at the seaside.
One significant feature of Ban Phe is the TEFL International School for potential English teachers in Thailand. This single feature puts it on the global map, and many tourists are curious to find out how the international school fits in such a tiny town.
There are very few accommodation facilities in Ban Phe, with most of them located on the main route into town or around the pier. You can get massage facilities from one of the parlors in town, with some of them offering basic rooms where one can put up for a night.
Sources: