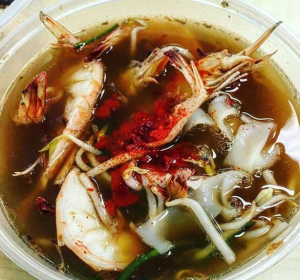 It was a chance find. We were in Charoen Krung on other business, but an arched metal trellis caught the eye – Bangkok Fish Market.
It wasn't so surprising. The river is behind Charoen Krung and lots of fish must be delivered to Bangkok by water.
We went in. A long road leads down to the market, but once inside there's that higgledy-piggedly air so many markets have – untidy but efficient.
Fish markets are fascinating. Somehow dead fish don't give off that slaughterhouse atmosphere – they don't seem to mind being dead so much as mammals do.
People were working very hard. There was a whole gang washing and cleaning squid, and some were barbecuing morsels on braziers. Cheerily they asked if we would like some. We would: squid is tasty.
Round the corner, many stalls were selling heaped piles of fish. It looked very fresh too, and we knew instinctively that we would buy. For a start, the prices were right ö none of your exorbitant supermarket prices here.
We were after crabs, prawn and fish – our barbecue pit doesn't like to be left inactive too long. We bought several kilos of each and didn't have to take out a bank loan.
The river runs behind and we spent some time looking over the wall at the opposite bank where tall condos are sprouting. The river was busy – all kinds of boats were making their way inland, and birds flew into the market area hoping for tasty scraps.
The fish market people were friendly, and from the calls of farang, farang, I got the idea there are few Western visitors here. It's not so surprising – this market does not advertise itself loudly as others do.
Is it worth a visit? Most certainly. First, you can buy seafood cheaply. Secondly it's an interesting Bangkok find, and thirdly, the river is behind the market to offer a fresh breeze after the fish smell of the market.
Laden with seafood we made our way home. We'll be going back to that market ö our barbecue was delicious!
Bangkok Fish Market Sois 62/64 Charoen Krung (New Road)