The nation's modern day capital Bangkok, is known to Thais as Krungthep, Maha Nakorn, Amorn Ratanakosindra, Mahindra Ayudhya, Mahadilokpop Noparatana Rajdhani, Burirom, Udom Ratchanivej Mahastan, Amorn Pimarn Avatarn Satit, Sakkatultiya Vishnukarm Prasit (The Great City of Angels, Sublime Treasury of Divine Jewels, Great Unvanquished Land, Grand Outstanding Realm, Royal Capital City of Delights Replete with Nine Noble Gems, Supreme Royal Dwelling and Grand Palace, Divine Shelter and Residence of Reincarnate Spirits) – or. Krung Thep for short.
For the visitor who enters Thailand, their first taste of the Kingdom is likely to be that of Bangkok. A number of articles have been written about the 'City of Angels' over recent years, mainly focussing on the various bad sides; heavy traffic, polluted air, noise from construction sites, etc. No difference to any other capital city around the world really.
What the city also offers is the chance to be enchanted by the whole atmosphere that surrounds the city – not just the pollutants. The mixture of the old temples and shrines, buildings of fine architectural design, juxtaposed with the modern high rises. The city can certainly be said to be a modern day city, but behind all the hustle and bustle there will always be something from Thailand's colourful history to captivate you.
Spending a few days or more in Bangkok can be a pleasant mixture of the old and the new: from the splendours of the Grand Palace and the temples and shrines of Rattanakosin Island to the modern hotels, shopping malls, international restaurants and discotheques that line the city's thoroughfares.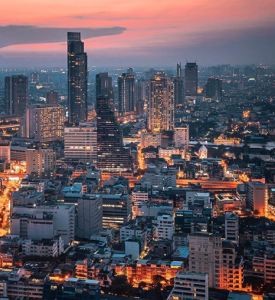 Bangkok's problems of traffic control are well known, seeming to in fact to have no control. But with good planning in your itinerary, even using the public buses or motorcycle-taxis on certain trips, the city can become easier to navigate. Even the original travel routes through the network of canals that still exist are another compromise to the traffic dilemma. The government has on occassion tried attempts to alleviate the problems that are synonymous with Bangkok. The latest venture is an electric bus showing visitors the sights on Rattanakosin Island.
Thailand has often been described as a city of contradiction and given that this is the case, Bangkok brings this trait to an almost schizophrenic head.
One first-time visitor to Bangkok may choose only to see 'an uncoordinated sprawl, threaded with roads choked with static traffic'. Another will gape in wonder at the juxtaposition of glittering high rises and golden temple spires.
Our advice is simple, ensure you have enough time to get to your destination in Bangkok, expect the traffic jams, relax and enjoy this spectacular, enchanting and occasionally frustrating city, for what it is; a glorious mixture of old and new, history and technology, tastes, aroma, colour and beauty. Oh, yes. And traffic!
Places of Attractions
Wat Indravihan
Situated in the Bangkhunphrom area on Wisut Krasat Road, the temple was constructed during the reign of King Rama IV. The wat is well known for it's large standing Buddha image, some 32 metres tall. The top knot of the image contains a relic of the Lord Buddha brought from Sri Lanka.
Wat Ratchanatdaram
This Royal temple is situated on Maha Chai Rd, next to Wat Theptidaram. Built in the reign of King Rama III in 1846, the temple enshrines a Buddha image made from copper mined in Nakhon Ratchasima province. Next to the temple is the rather strange looking Loha Prasat or 'Metal Palace', built around the same time as the temple. The palace is believed to be modelled on a similar palace in India from over 2,500 years ago. The 37 spires represent the 37 Dharma of the Bodhipakya. Around the grounds of the palace and temple is a well known amulet market, where many miniature Buddha images and lucky charms can be found. .
Wat Bowon Niwet
This temple is situated in the Banglamphu area on Phra Sumen Road. It is the national headquarters for the Thammayut monastic sect. The founder of this sect was King Mongkut, who started a royal tradition by entering the monkhood here. King Bhumibol and the Crown Prince Vajiralongkorn, along with other males in the royal family, have been temporarily ordained as monks here. The Buddhist university, Mahamakut University is also housed here.

Wat Pho
Located on the south side of the Grand Palace, this is the biggest and oldest temple in Bangkok. Divided into two sections, one where the monks reside and the other containing several religious buildings. The original temple dates back to the 16th century, but it was completely rebuilt in 1782.
Wat Pho is known for its gigantic Reclining Buddha, the largest in Thailand at 46m long and 15m high. The image is covered with gold leaf, while the soles of the image are inlaid with mother-of-pearl designs depicting the 108 auspicious signs by which a Buddha can be recognised.
Located within the grounds are the headquarters for the teaching of traditional Thai medicine and Thai massage. Visitors can take a massage here and courses are available for those wishing to learn more about Thai traditional massage.

Wat Traimit (Temple of the Golden Buddha)
Situated near the intersection of Yaowarat and Charoen Krung roads, close to Hualamphong railway station. The solid gold Buddha image stands 3m tall, weighs 5½ tonne and was elegantly sculptured in the Sukhothai style.
Wat Benchanabhopit (Marble Temple)
This elegant temple is situated on Sri Ayuttaya Rd, near the King's official residence at Chitrlada Palace. The temple got its name from the Carrera marble used in its construction. The temple was built in 1899 by King Rama V and houses the Buddha image, Phra Buddha Chinnarat, considered one of the most beautiful images in Thailand.
Wat Arun
The 'Temple of Dawn' is situated on the Thonburi side of the Chao Phraya River. Named after the Hindu god of dawn, Aruna, the temple was built on the site of Wat Chaeng, a 17th century royal temple and palace which was the last resting place of the Emerald Buddha before crossing the river to Bangkok.
The 81m prang was built during the first half of the 19th century, during the reign of kings Rama II and Rama III. The whole of the brick structure is covered in plaster embedded with pieces of Chinese porcelain, a familar decoration of early Rattanakosin period temples.
The temple is reached by taxi-boat from Tha Tien pier, at the end of Thai Wang Rd or Tha Chang pier, at the end of Na Phralan Rd.

Wat Suthat
The construction of the temple was started in 1807 by Rama I and finally completed in 1851 at the end of the reign of Rama III. The viharn was built in an early Bangkok-style, with six pairs of intricately carved doors. Inside the viharn is the Phra Sri Sakyauni Buddha image, a large bronze image that was previously enshrined in Wat Mahathat in Sukhothai.
The wat has the classification of Rachavoramahavihan, the highest rank bestowed on a temple. The ashes of Rama VIII, the brother of Rama IX, are interred in the base of the main Buddha image.
Close to the temple is Sao Ching Cha, or Giant Swing, the centre of Brahman festivities.
Wat Thammamongkhon
Located on Sukhumvit Soi 101, it boasts the highest pagoda in Bangkok, standing at almost 95 m high. There is a Buddha image weighing 14-ton carved from a solid 34-ton block of jade. Kept in the pagoda are relics and a hair of the Lord Buddha which was presented to Thailand by the head of the Theravada monastic order of Bangladesh.
Shopping
Shopping is on e of Bangkok's major at tractions. Favourite purchases in clude Thai silks and cottons, modern and traditional jewellery featuring precious gemstones such as sapphires, rubies, emeralds and diamons, semi-precious stones including opals, jades, topazes, turquoises and ziricons, silverware, ceramics, specially high-fired celadon, leather goods, wood carvings, paintings, custom-tailored clothing and any of the one thousand and one items produced by skilled Thai artisans. Bangkok is one of the most competitively priced cities in Asia. Friendly bargaining in most stores and markets ensure favourable prices and service. There are six clearly defined city shopping areas:
Phatphong/Suriwong/Silom Area
Major hotels include the Montian and Dusit Thani. Numerous shops, and department stores, sell jewelry, gemstones, antiques ceramics, leather goods, men's and women's clothing, handicrafts, Thai silk and cottons, electrical and photo graphic goods.
The area comprises Bangkok's major commercial and nightlife centre
Mahesak/Silom/New Road Area
Principal hotels include the Shangri-la, Oriental and Sheraton Royal Orchid. The area is a major gemstone dealing and jewelry manufacturing area. Boutiques, art galleries, department stores and shopping arcades, including the River City complex, sell a wide rage of items, with particular emphasis on antiques, tailored clothing, and contemporary Thai and Asian paintings.
Phloen Chit /Pathumwan Area
Principal hotels include Le Meridien, the Hyatt Erawan, Arnoma, Regent, Imperial and Siam-Intercontinental. The area encompasses several department stores and shoping cntres, such as the World Trade Center, Siam Square, Siam Certre and Mahboonkrong. Almost everything the shopper needs may be found within this area.
Thailand's pricipal duty-free shopping outlet is located on the 7th floor of the world Trade Center.
Sukhumvit Area
Principal hotels include the Landmark, Ambassador and Sheraton Grade. Conventrted largely between Soi Nana (Soi3) and Soi Asoke (Soi 21), several shops, shopping centres and department stores offer a broad range of Thai and imported items.
The Nana Entertainment Complex on Soi 4 is one of Bangkok's favourite nightlife areas.
Pratunam /Petchaburi Road Area
Principal hotels in clude the Amari Watergate and Indra regent. The area is best known for its inexpensive readymade clothing, which is sold partly in a street market, where determined bargaining is required for best prices.
Banglamphu
This riverine section of Bangkok is favoured by back-packers for its budget accommodation. The area offers inexpensive item,. Especially readymade clothing, leather goods, footwear, cosmetics and curios. Bargaiming is recommended
PRINCIPAL MARKETS
Chatuchak Weekend Market
An approximately 35-acre public park on Phaholyothin Road, opposite the Northern Bus Terminal, and know locally as Suan Chatuchak, is the site of a popular weekend market which sells at least one thousand different local products including pets, handicrafts, plants, fresh fruit, antique reproductions, shoes, toys, clothing and domestic utensils.
The weekend market is open on Saturday and Sunday from dawn to dusk, or approximately 7.00 AM until 6.00 PM.

Bang Rak Market
Located on New Road, between Silom and Sathon roads, this market offers a particulary large selection of cut blooms and orchids. Lovely garlands made principally of jasmine are a specialty.
Thewet Market
Lining the bank of Khlong Phadung Krung Kasem off Samsen Road, this market is best known for potted plants.
Lang krasuang Market
Facing Kholng Lot, on Atsadang Road, between the Royal Hotel and Interior Minstry, a row of shophouses well moderately priced second-hand goods, including antique cameras and typewriters, musical instruments, radios, and all manner of electrical goods. Bargaining is essential.
Woeng Nakhon Kasem
Better know as 'Thieves Market", located between Yaowarat Road and New Road, near Phahurat, this area sells antiques, including Thai and Chinese objets d'art, porcelain, brassware, copperware and furniture inlaid with mother-of-pearl. Bargaining is essential.
Major Events
Besides nationally celebrated including Buddhist holy days and the traditional Thai New Year, Songkran, celebrated each April, Bangkok hosts a number of important annual events, They include:
New Year's Celebrations
Generally celebrated on January 1, located around Sanam Luang, and marked by earlymorning Buddhist merit-making, and afternoon and evening folk entertainment.
Royal Ploughing Ceremony
Staged every May ar Sanam Luang, and presided over by H.M. the King to mark the official commencement of the rice-planting season.
H.M. the Queen's Birthday
Celebrated each August 12. Public building, particularly in the Ratchadamnoen and Grand Palace areas are illuminated at night.
Chulalongkorn day
Celebrated each October 23, principally beside the equestrian statue of King Chulalongkorn (reign: 1868-1910), the monarch generally credited with saving Thailand from western colonialisation, and who modernized his country, besides abolishing slavery
Trooping of the Colours
Celebrated each December 3, preceding H.M. King Bhumibol's birthday, the elite Royal Guards Swear anew their allegiance to their monarch in a colourful ceremony in the Royal Plaza.
H.M. the King's Birthday
Celebrated each December 5 with Buddhist merit-making, spectacular evening illuminations in the Grand Palace and Ratchadamnoen areas, and public entertainment principally in the form of folk dramas and open-air film shows at Sanam Luang.
Getting Around in Bangkok
Taxis
Generally taxis are easy to find and only if one is in the outskirts of the city, (or in the middle of a rainy season downpour) do they become more difficult to find. Depending on how fast you need to reach your destination and the level of comfort required you may opt for a ride in a traditional tuk tuk, a non-metered, non-air-conditioned standard car (not recommended); an air-conditioned, metered taxi complete with English speaking driver or even jump on the back of one of Thailand's motor bike taxis.

Tips
Avoid parked taxis, especially in the Silom and Sukhumvit areas. This is often the sign of a non-metered taxi awaiting unsuspecting tourists.
At the airport there is an official taxi stand with registered prices to and from certain areas in the city.
Always ensure the taxi meter is on. Flag fall is Baht35.
Never assume the driver knows where you want to go. It is worth while getting your destination translated into Thai. Any hotel, travel agent or friendly Thai local will do this for you.
How do you know if you are being taken for a ride? Carry a map, ask the hotel the expected fare.
Unlike many other countries there are no late night charges. The meter should still read 35 bht.
Be prepared for some background music in the vehicle, from Thai pop or upcountry Issan music to live chat.
Smoking is not permitted in A/C taxis.
Ensure you know (or try to find out) on which side of the road to catch a Taxi. It can take you an extra hour or more during peak traffic if you happen to be on the wrong side.
During peak times in Bangkok be prepared to wait. It is generally rude to get out the taxi in the middle of a queue of cars. Be patient or plan well in advance.
The driver may ask you if you would like to visit a tailor, a jewellery shop or a massage parlour. Be aware that the taxi driver will earn commission from the outlet.
Always carry change, as often the driver does not.
Be aware that most taxi drivers change shift between 3:30 and 4:00pm. This may make taxis more difficult to find or the driver may be reluctant to take you if your destination is inconvenient.
There is a Baht 50 toll for using the expressway. The passenger pays this.
Around the Bangkok area expect to pay between Baht 50 to Baht 200.
Bangkok by Bus
Bangkok is well served by bus. There are air-conditioned and non-air-conditioned vehicles and the bus routes stretch to every corner of the city and beyond. Fares vary but bus transport is still the cheapest way of getting round town. Bus route maps are available from most book stalls but if in doubt, ask. Usually someone at the bus stop will be happy to ensure you are headed in the right direction.
River Taxi
River TaxiAn option for the fleet of foot, river taxis and ferries ply the Chao Phrya River as well as some routes through klongs in the city. They are inexpensive and, having no traffic congestion to deal with, often one of the speediest ways to get to your destination. One word to the wise however; the river taxi drivers do not stop for long at any jetty. Take your cue from the locals and your courage in your hands and jump aboard quickly.
Tuk Tuks
In peak hours the tiny tuk tuks can often weave in and out of traffic faster than any car however there are some things to bear in mind.
Tips
Bargain. Hard! Though for local Thais the fare in a tuk tuk is not excessive it can double or triple for any visiting farang.
The structure of a tuk tuk offers no protection in case of accident or from heat, rain or traffic pollution.
Tuk tuk drivers may say that they will take you on a tour of the city for ridiculously small sums. In this case you will be taken to various tailors, handicraft and jewellery outlets. Whether or not you buy anything the shop will treat the driver to a complimentary re-fuel.
Avoid riding in tuk-tuk in wet weather.
Motorcycle Taxis
Undoubtedly the fastest way to get around in Bangkok, the motor bike taxis are also the most dangerous. Drivers wear numbered vests and can be flagged down or picked up from one of their many waiting areas.
Tips
Always wear a safety helmet. Not only might this save your life but should the police catch you without one it is you – and not the driver – who will pay the fine.
Negotiate the fare before you decide to take the ride.
Be prepared for a few scary moments whilst juggling through dense traffic.
Always warn the driver to GO SLOW (Cha Cha Khrup/Kha). Some drivers drive fast to get you to your destination and then secure another fare as fast as possible.