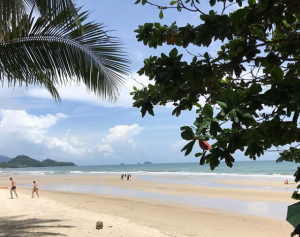 The Koh Chang beaches are located on the Thai gulf, on the eastern part of Thailand's coast, not far from the Cambodian border. Koh Chang is a mountainous island and is Thailand's second largest island after Phuket. The island boasts beautiful beaches, majestic waterfalls, and secluded bays.
There are four main Koh Chang beaches: Hat Sai Khao (White Sand) Beach, Khlong Prao Beach, Kai Bae Beach and Hat Tha Nam (also known as Lonely) Beach. These Koh Chang beaches are always fun and adventure packed and are frequented by numerous visitors all year round.
Other Koh Chang beaches include the Wai Chek beach which is to the southwest and Tan Mayom on the east of the island.
White Sand Beach is characterized by the long, wide stretches of white sand from which it gets its name. These wide beaches are ideal for games involving lots of people such as beach volleyball and beach soccer, but it is also ideal for sunbathing or for relaxing under the shades of the palm trees. At the southern end of this Koh Chang beach, the sands give way to pebbles, rocks and shore pools that are ideal for strolling and dabbling.
Hat Tha Nam beach is characterized by overhanging palm trees that provide great shade from the bright sun. From there you have a stunning view of the surrounding jungle clad mountains that make a scenic backdrop to Koh Chang.
Khlong Prao beach is split into three parts by the river estuary of the Khlong Plu waterfall. It has excellent mangroves and offers a good view of the river and the sea.
Finally, there is Kai Bae beach, which is closer to the main road and easy to reach. It also offers a quiet, serene and independent location where one can just kick back and relax under the warm sun.
With its epic views of Koh Chang beaches, its unique jungle noises, and a matching array of tropical wildlife including majestic sea eagles, many stubborn monkeys, and the spectacular but rarely seen great hornbill, this is an ideal place to spend some quiet and relaxing time. Add diving trips to beautiful coral reefs and elephant treks to the interior, and you will agree that Koh Chang offers something for every visitor, all the time.
Bailan Bay
Bailan Bay located on the west coast of Koh Chang island, at its southern end. At the northern end of the bay is Haad Tha Nam, also known as the 'Lonely Beach', although it has become a very popular beach destination, and far from lonely. Most parts of Bailan Bay – especially to the north – are relatively rocky, but there are sandy beaches to be found further south, even though they are small in size. There is some development along the Baan Bailan shoreline, with a few shops, gas stations, restaurants, and an internet café.
Great Hideaway
Bailan Bay remains a peaceful place to hide away, and people frequently wander down from Lonely Beach. However, its predominantly rocky nature limits the number of attractions and activities that visitors can engage in. All the same, it has a relaxing and calming atmosphere, making it ideal for those seeking a private and tranquil relaxation haven among the secluded bungalows.Because the sandy beaches are penned in by rocks for several metres out to sea, especially at low tide, opportunities for snorkeling and diving are limited, but it is nevertheless possible to swim in the shallow waters.
Long Time Vacation
Many visitors to Bailan bay come with the intention of staying for a long getaway, because there as there is little one can do and experience in a weekend long outing. Some people stay for a month or longer, taking their time to visit the neighboring islands and sample their beaches. However, this dynamic might change in the future, because t Bailan bay's increasing popularity is prompting the development of modern resorts, hotels and shopping malls. Most of the food here is served at the restaurants attached to the various hotels and resorts. However, there are opportunities to sample Thai food along the road joining Bailan bay to Lonely beach. It is only about fifteen minutes' walk and one can easily make the connection from either end while visiting the island.
Kai Bae Beach
The brilliant sunshine, the shady palm trees that overhang the beach stretch, the cool breeze and welcoming ambience are some of the features that make Kai Bae beach one of the best beach havens in Thailand. The tropical sun is superb for sun bathing, and when your tan is topped up, you can enjoy a relaxing foot massage under the cool palm shade.
If you consider idling in the gorgeous pearl white sand to be an activity, then you will undoubtedly keep yourself busy sunbathing and taking in the tropical sun. On the other hand, you can spend quality time doing various activities. If you love swimming, the clean warm waters of the ocean will do immense good to your spirits. Alternatively, you can snorkel and dive and explore the wonderful under waters.
If none of these options appeal to you, you can enjoy a blissful beach walk, ideally during low tides – or you can just lie down and have your body massaged by professionals. You will be treated to some of the best conventional Thai and foot massages in one of the beachside massage huts, that have been constructed solely for that purpose.
One of the main features of Kai Bae beach is the concentration of accommodation at its southern end, which owes to the fact that is situated next to Klong Prao beach. This end of the beach offers a perfect location to find a place to stay where you can enjoy the panoramic view of the bay and the lovely sun. Most hotels here offer their visitors an array of athletic activities such volleyball, frisbee and beach football.
Food is in abundance, served by a plethora of restaurants and the cafes. Even though there are various street eateries where you can purchase food and eat on the move, the best option is to stop in the restaurants. Most of the roadside enterprises are not only affordable, but the quality of their foods is high.
Klong Prao Beach
Situated 4 kilometers south of White Sand beach, Klong Prao beach is without doubt the largest of all Koh Chang island's beaches. It neighbors Laem Chaichet – actually, it starts where Laem Chaichet ends.
Klong Prao beach is serenely quiet, and is the preferred choice of visitors who enjoy the peaceful environment and the striking views of the rocky landscape. The name Klong Prao means "coconut canal" in Thai. One of the unique features of this beach is that it is divided into three parts by the river estuary downstream from the famous Klong Plu waterfall, and the canal that gives the beach its name.
The pearl white sand of Klong Prao beach appears quite narrow whenever the tide is high, but as soon as the tide begins to ebb, its 5 kilometer stretch widens like a generous smile, while scattered up and down its length there are many shops doing a busy trade.
One of the most delightful tourist attractions is to be found at nightfall by the canal There, you can be enchanted by the massed ballet of fireflies dancing around the twilight. The beach is host to the Chang Chutiman elephant trekking camp, and, furthermore, a visit to Klong Prao beach is incomplete without a call to the Klong Phu waterfall and its neighboring pool.
You can sample both local delicacies and foreign cuisines. There is a broad range and plenty for all, to suit every person's preference. If you would like to take home a special souvenir of your trip, you can learn how to prepare a number of Thai delicacies at the cooking schools found at the beach's southern end.
The beach has experienced some rapid changes in the recent past with many modern resorts and health spas being built. The resorts here seem to target top-end tourists with the beach's northern end mostly owned by private individuals. While swimming is one of the beach activities that everyone can enjoy on Klong Prao beach, some luxurious resorts have even constructed their own private swimming pools, as if swimming in the ocean is not sufficient!
Koh Kood Island
Koh Kood (or Koh Kut) is located about 330 kilometers to the south-east of Bangkok, and 82 km south from Lam Ngob pier on the mainland. It is Thailand's fourth largest island, covering more than 105 square kilometers. It is not far from the Cambodian coast, and is mostly low-lying, with the inner areas featuring great attractions such as lush forests of mangroves, plantations of coconut and rubber trees, and eye-catching waterfalls.
The sea water off Koh Kood's shoreline is emerald green in color, and greats beaches that are filled with pearl white sand. Just because the island is located far from Bangkok doesn't mean that it is deserted. A steady stream of holidaymakers and adventurers enjoy exploring its remoteness, prizing especially the quietness of the atmosphere, the diverse activities available, and above all, the unspoiled beaches. These features make Koh Kood second only to Koh Chang as the most popular beach destination in the region.
The three main attractions on the island are the beaches, the fishing villages, and the waterfalls. On the western side of the island is Ta Pao Bay, which is features a shallow coral reef that is ideal for snorkeling, while back on shore the most amazing beaches await exhausted swimmers. Getting across to the eastern side of the island is a bit of an adventure, and you will be well advised to hire a skilled songtaew driver to take you there.
The largest fishing village is Baan Aow Salad which is situated in Salad Bay, in the island's north east region. Here, you can sample an array of freshly caught seafood. While there you can visit Sanuk Waterfall, which became famous when King Rama VI made a state visit during the 1920s. Since then it has become one of Koh Kood's most celebrated attractions, being an ideal spot for bathing as well as sightseeing. Also recommended is the snorkeling that can be enjoyed from Koh Kra, Koh Raet and Koh Maisi Lek islands.
Whether you have in mind a short term getaway or a long term vacation, accommodation on Koh Kood island is not a problem. Most of the restaurants, hotels, bungalows and beach resorts are located on the western side, where the usual range of services, money exchanges and cash machines is available.
Lonely Beach
Once upon a time, there was a pristine beach, about a kilometer long, some of it rocky and some of it sandy. Shaded and secluded at the southern tip of Koh Chang island, it was discovered by backpackers who called it Lonely Beach. As word got around and visitor numbers increased, that name has become increasingly ironic. Now, the beach known to locals as Had Tha Nam is a well developed tourist haunt.
Even so, Lonely Beach is not as intensively developed as other Thai beaches. The accent is still on peace and tranquility, although visitors can nevertheless engage in an array of beach activities, including swimming in the warm waters on the northern side.
Despite the presence of rocks, there are many overhanging palm trees, embellishing the stunning view of mountainous jungles in the background. Lonely Beach is rarely crowded, an attractive attribute that makes it one of Thailand's most languid places to visit, ideal for relaxing family picnics. If you hope to catch and experience the best that Lonely beach has to offer, then the best time to come visiting is towards the end and beginning of the year, say October-April/May.
Although modern beach resorts are bringing premium-priced accommodation to Lonely Beach, the accent is on maintaining traditional Thai architectural designs, with bamboo huts a particular feature. The village feel at this beach is like no other, and one can relax under the shades of the palm trees and breathe in the fresh air delivered by nature's providence. If your central purpose in visiting Lonely Beach is rejuvenation, then nature can be perfectly complemented by professional Thai body massages that will undoubtedly clear your head and dispel the tension from your body.
Alternatively you can enjoy a swim in the soothing warm waters. You can also take part in various beach activities like beach football, volleyball, snorkeling, diving and kayaking. There are two diving centers operating on the beach that arrange diving trips for visitors to Hin Luk Bat, a rocky outcrop 3 kilometers offshore.
If you want to be lonely, without necessarily being alone, then the Lonely Beach is the answer. There is a variety of accommodation available, including hotels, resorts and bungalows. The rates are reasonable, a factor to bear in mind for those who are traveling on a budget.
Read More