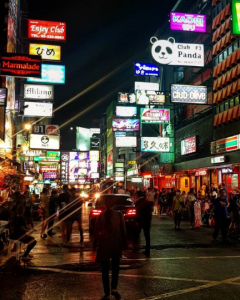 If your definition of a market is that it should be thronged then this is for you.
The activity starts at about 4.30pm. Gangs of brawny Thais descend upon Patpong equipped with forklifts, lockups are thrown open, and within a very short time and amidst great noise and hubbub a skeleton market is thrown up.
Then the owners appear and great metal cases are unlocked and goods are laid out for display. By 7pm the market is alive and the customers are beginning their slow amble round the goods for sale.
It's noisy. Go-go music competes with the raucous call of the bar touts; music blares out from stalls selling records; hawkers shout their wares.
What can you buy? Watches of dubious provenance, clothes of all sorts, jewellery, belts, artisan ware, glass figurines, knives, knick-knacks of all kinds.
Prices are not high for the Western tourist but locals and expats know prices are cheaper elsewhere – all those muscular site erectors have to be paid.
But it's a fun visit, nevertheless. It's not every market where you can buy: a set of knuckle dusters, a pair of reading glasses, a fake Rolex and, wait for it, a singing and dancing lobster set on a panel. Painted red and black, the merry crustacean will move in perfect if painful rhythm to a squeaky rock tune from its wooden base. A must for your condo guests!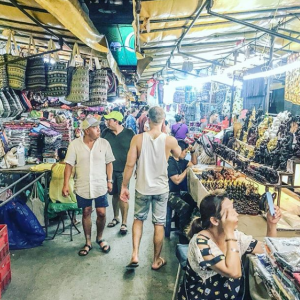 Around the corner in Silom Road, the emphasis is on food, CDS and clothes. Prices? Well, if you know your onions you bargain hard. If you don't you'll pay more than you should but are unlikely to break the bank.
In Surawong Road, food is the thing, and you can buy a set of knuckle dusters and a magnifying glass, or a calculator and a glass figurine to keep you interested while you eat some fiery hot som-tam.
And if it all gets too much for you, a cold beer is not too far away!
At 2am, assuming you're still awake, those brawny site erectors turn into equally enthusiastic site dismantlers.
Watch your step – forklifts can move surprisingly fast.