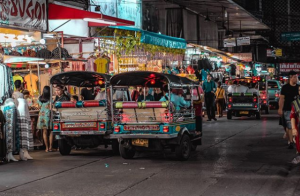 Pratunam means Watergate but there is no Nixonian scandal here. Just clothes, clothes and more clothes. The market is situated on the corner of Petburi and Ratchprarop roads, and your landmarks are the Bayoke Tower Hotel and the Amari Watergate Hotel.
Nearby is Nai Lert Market, so you can kill two birds with one stone.
Although handicrafts, jewellery and a myriad other things are on sale at the Pratunam Market, clothing is the thing. Many of the vendors are wholesale primarily, but even so, perhaps it's a good idea to rethink your shopping ideas.
In the West, it's possible to make a decision like "'I think I'll buy a shirt today."
Nothing wrong with that, it seems eminently sensible. Fix your budget, as I remember it in England something between 700 baht and … the top limit is up to you, and go off and buy your shirt, dress, jeans, or what have you.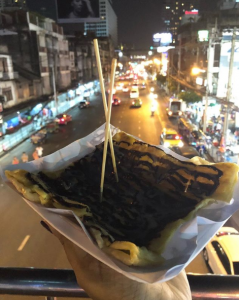 Now let's think of a friend of mine with four children, all boys. Once a year, he and his wife came to Thailand, stayed in a hotel in the Pratunam area and, after a visit to an ATM for a modest amount, went shopping in Pratunam.
As they lived and worked in a hot country, they went for cotton and they went for quantity. (This is not to say that you will not find reasonable quality in Pratunam.) They knew what they wanted and they knew how to bargain. Their boys needed clothes, and they needed a lot of them, and this made the trip easy on their pockets.
There's nothing vendors here like better than quantity buyers, moving stock is how they live. So if you have quantity buys to make, this is the place. The price should go down a lot.
My pal and his wife returned each year with suitcases full of clothes, and as my friend said, their purchases would have cost a fortune in the West. They were happy with the quality and the price.
After all, small tops at 40 baht, shirts for not much more, will not break the bank, will they? Now think of purchasing a shirt in the West and you will see what a bargain clothes are here.
You can also buy cloth in Pratunam, for making up dresses, shirts and trousers. You'll need to go forearmed with knowledge of how much cloth you need for the garment.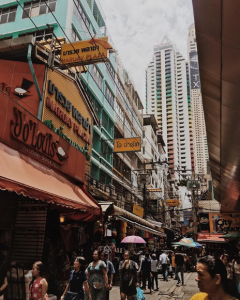 Above all, in Pratunam, bargain, bargain and bargain again. Put a smile on your face, and move your hand lower. Feign a heart attack at the outrageous demands of the seller if you like. But whatever you do, don't accept the first price.
Along Phetchaburi, you can find Pantip Plaza for those computer bargains and for a buffet lunch try BaiyokeTower, a spectacular view of the city from the top. Plenty of foodstalls in the area for those who want a sit-down and a snack.
And, for local history buffs – the owner of Baiyoke Tower is said to have paid for the construction of the building entirely out of rents he received from market-stall owners in Pratunam market, which he also owns.
Around the area there are plenty of other shopping bargains, including a shopping centre in Baiyoke itself.
'Name' goods? Everywhere. You didn't know that Armani and Gucci were Thais, did you? And they seem to sell their stuff here a lot more cheaply than in the West.
Draw your own conclusions!